Wheel alignment stand in the assembly line – Passenger Car
Wheel alignment in the assembly line – Use of semi-automatic tools for the rear axle alignment.
Wheel alignment machine in the assembly line reduces time and effort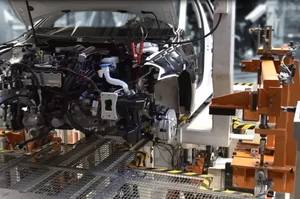 To reduce the necessary test and adjustment capacities at the end of line, the in-line wheel alignment machine in the assembly line offers an adequate alternative to conventional drive-through test stands. With this system the wheel geometry of the vehicle is measured and adjusted fully automated directly after the installation of the axles in the chassis. During the adjustment the vehicle is suspended in the hanger.
According to the vehicle type the adjustment of toe and camber values at the front axle as well as at the rear axle is carried out by means of Dürrs own setting tools. The positioning of the setting tools to the respective setting points is carried out via robot.
The test stand control and visualization is effected by the software x-line which has been developed by Dürr.