Selective Catalytic Reduction (SCR)
Air Pollution Control Systems (SCR) used for the selective catalytic reduction of nitrogen oxides (NOx) in flue gases and process exhaust gases when high nitrogen oxide conversion rates needed. They can be installed in Oxi.X DF (direct-fired thermal oxidizer) systems for flue gas purification or used as stand-alone units. As their name indicates, selective catalytic reduction systems based on the catalytic process.
Selective Non-Catalytic Reduction (SNCR) Systems
In certain applications, Dürr's selective non-catalytic reduction (SNCR) technology can be deployed as a relatively low capital cost solution.
Operating principle Selective Non-Catalytic Reduction Systems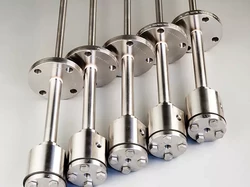 Our SNCR technology utilizes custom-designed Sorpt.X NT (formerly TurbotakTM) atomizing nozzles to inject ammonia or urea solutions directly into the hot gas to chemically reduce NOx to nitrogen and water. In applications where site-specific performance data is necessary, we can conduct a full-scale demonstration of the effectiveness of an SNCR system.
Application area Selective Non-Catalytic Reduction Systems
We offer pilot testing at your facility to determine the feasibility of SNCR for NOx emissions control. Urea and ammonia injection testing is conducted to evaluate the best choice of reagent for your process, proper equipment sizing for full-scale installation, and injection locations.
We continue to expand our database in chemical production applications such as glass and carbon black manufacturing through full-scale demonstrations. Our goals are to maximize NOx control performance while optimizing chemical utilization with low reagent consumption and the lowest levels of reagent slip. We utilize both predictive and scale modeling techniques to assure optimum gas flow distribution to achieve this goal.