Dürr provides a comprehensive turnkey approach for producing battery electrode coated materials. Our capabilities cover both ends of the production line, as well as everything in between. We provide systems for raw material handling, slurry mixing and fluid delivery, web handling, coating and drying, lithium-ion electrode solvent recovery and purification, calendering, and slitting.
Advanced battery electrode development and manufacturing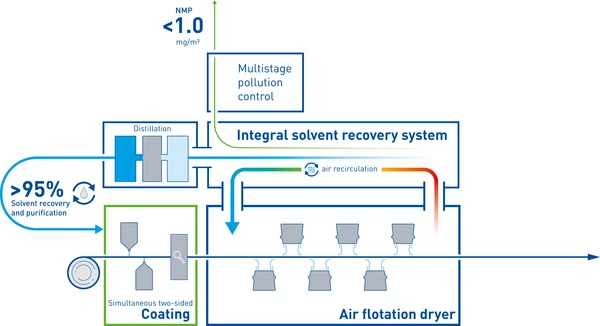 Dürr provides specialized coating lines offering lithium-ion battery electrode manufacturers greater throughput, better quality control and waste elimination. Also environmental compliance solutions.
Working with companies in the United States, Europe and Asia for lithium-ion electrode production, Dürr is leading the process development needs of coating, drying, and solvent recovery equipment for advanced battery electrode development and manufacturing.
From a coating line that meets the basic and competitive needs of a new player in the market to a fully integrated production line for high-volume runs, Dürr is a single-source OEM that can meet all your electrode production requirements, including engineering support during process development. Our capabilities cover turnkey coating lines, equipment installation, start-up supervision, and 24/7 service and parts support.

Eytan Benhamou
Dürr Systems
Z.I. des Malines 32 rue des Malines
91090 Lisses
France

David Ventola
Dürr Systems, Inc. - De Pere
830 Prosper Street
54115 De Pere, WI
United States