Welcome to the Traineering Group.
Graduates – Start your career straight after your studies
Visioneering – to us this means: Facing the digital future with curiosity and developing solutions that others do not consider possible. Join our teams to work on the topic Industry 4.0 to enable even more efficient manufacturing processes in the future.
Graduation is approaching, and so is your search for an employer who appreciates your innovative spirit, creativity and passion for technology. An employer who allows young professionals room to forge a successful career – right from the start. Welcome to Dürr. We're glad you found us! After graduating, you can shape a successful future, together with colleagues, and join an internationally renowned market leader in machinery and plant engineering.
---
The Dürr Group Graduate Program
The 16-month Dürr Group Graduate Program offers a comprehensive overview of the Dürr Group with the companies Dürr, Schenck and HOMAG. You can expect rotations in four stations at different locations in Germany and abroad. You will also gain extensive experience in an international context during a stay abroad. In addition to an extended education and training program as well as networking events, you will be accompanied and supported by a mentor from the management. You will be able to shape the course of the graduate program according to your interests and development needs. After the 16 months, you will start in your target position which will be jointly defined towards the end of the program.
Do you have a very good degree, first practical and international experience and enjoy working in a global context? Then you are exactly the right candidate.
---
Areas of the Dürr Group Graduate Program
The Dürr Group Graduate Program is flexible, diverse and includes four specializations in both technical and commercial fields.
We offer the following areas:
Technology & Innovation
Software Engineering & Data Science
Finance
The programs start in October each year with a joint onboarding.
You can apply as from April, the final selection process takes place in July/August.
The duration is 16 months.
Questions regarding the Dürr Group Graduate Program? Just get in touch with us!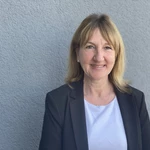 Simone Beutel
Corporate Human Resources
Dürr Aktiengesellschaft
Carl-Benz-Str. 34
74321 Bietigheim-Bissingen
Germany