Sinotruk focuses on flexibility
Largest heavy-duty truck manufacturer uses Dürr's automated guided vehicles
At Sinotruk, China's largest manufacturer of heavy-duty trucks, flexibility and avoiding bottlenecks are the top priorities. Dürr was able to provide a quick solution: its EcoProFleet. For the first time, the automated guided vehicles (AGVs) are transporting heavy-duty trucks of all types as well as ensuring that they have a durable paint finish when they leave the plant in Laiwu in the eastern Chinese province of Shandong.
Sinotruk paints 180,000 cabs for various trucks and other commercial vehicles each year at its plant in Laiwu, China. One of the last steps in the production process is the inspection of the paint finish. This step is particularly important since, unlike the paint finish on cars, the paint finish on heavy-duty trucks not only plays an aesthetic role, but also serves to protect the vehicle and its occupants. A perfect paint finish reduces the need for long-term maintenance and extends the vehicle's service life.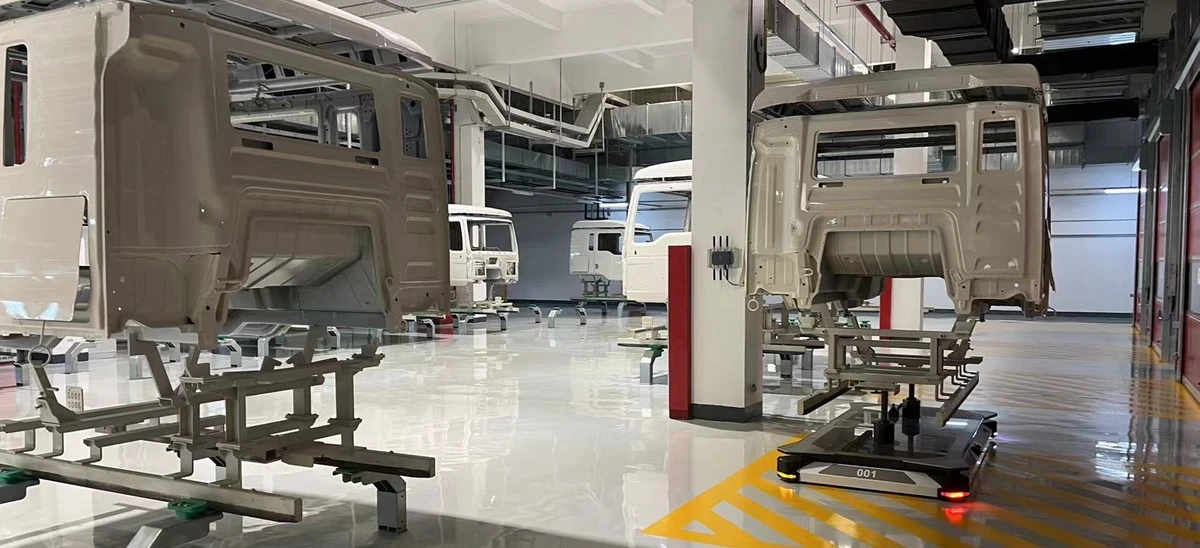 Trucks are somewhat different than cars. Unlike cars, which are generally reinforced to protect their occupants in the event of a collision, truck cabs are kept relatively simple and are already very stable in their basic structure. For example, lightweight add-ons that give the vehicle its shape, such as the roof, are not added until later. Additionally, the paint finish is not only important aesthetically, but serves to extend the vehicle's service life.
Stefano Bell, Product Manager, Dürr Systems AG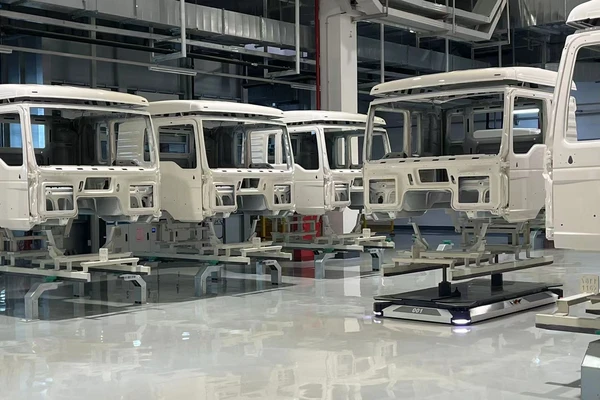 EcoProFleet prevents production bottlenecks
Although production lines are efficient, they are also prone to delays. This is why Sinotruk opted to use AGVs. The driverless transport systems deliver maximum flexibility. Bodies, which require special attention, are transported in and out of the line without any interruptions in production. The paint finish of the Sinotruk cabs are checked manually in the last production step. As soon as an abnormality is detected, an employee can request an AGV take the body off the line and bring it to a spot repair box at the push of a button.
The EcoProFleet is available around the clock thanks to the energy concept with supercap technology. It rapidly charges AGVs in just 90 seconds, either at dedicated charging points along their routes or during brief stops when the AGV is stationary anyway for picking up or setting down car bodies. Unlike other models, there is no need for overnight charging.
Tailored software solution for AGV control
When paired with the intelligent software solution DXQlogistics.control, the AGV allows for variable production layouts and ensures the highest levels of efficiency and scalability in the painting process. Dürr's tailored DXQlogistics.control software controls the material flow according to utilization, equipment, and work deck availability. In this way, the Sinotruk team ensures the optimal utilization of all work decks and avoids bottlenecks.
The AVGs navigate using BlueBotics' ANT® navigation technology. The BlueBotics ANT® server platform controls the AGV fleet, automatically regulating traffic, and managing transport system charging. This ANT® navigation technology has already proven its practical application many times over with more than 1,000 completed projects and over 3,000 vehicles.
Dürr and BlueBotics partnership
Almost two years ago, Dürr and BlueBotics signed a contract to partner to develop innovative AGVs for vehicle painting. By working with BlueBotics, Dürr has gained a specialist in autonomous navigation to offer its customers flexible and precise AGV technology suitable for use in fleets.
Stefano Bell, Product Manager at Dürr, on the partnership: "A successful paint shop AGV must be robust, safe, reliable, and adaptable. Our EcoProFleet, paired with ANT® navigation technology, meets all these requirements. ANT®'s performance and BlueBotics' outstanding support make them the perfect development partner for us to meet the logistical requirements of Dürr's paint shop of the future."
The plant layout in Laiwu is so flexible that Sinotruk will be able to extend the plant or integrate new models in the future.