EcoProFleet - A Driverless Transport System for Paint Shops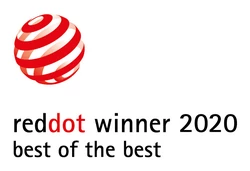 Car manufacturing of the future requires flexible and versatile paint shops. Only by creating an independent conveyor system can we move away from the restraints of rigid production lines. That's why Dürr has developed the EcoProFleet, the first automated guided vehicle (AGV) designed specially for paint shops.
The AGVs can pick up any bodies and transport them to exactly where they need to be for the next process step, giving paint shops greater flexibility than ever before. AGVs are an alternative to stationary conveyor systems: they move the bodies independently and in parallel to one another between work stations and temporary storage. Waiting times caused by different processing times for different bodies are no longer an issue. In the event of unforeseen failures, the transport carriages can drive into other work stations, helping to improve efficiency and ensuring the whole painting process is fully optimized.
The driverless trolleys have been specially developed for use in paint shops, which is why EcoProFleet AGVs are paint and solvent resistant and easy to clean. With an overall height of just 255 mm, they can easily drive under all work zones and conveyor systems to feed in, transfer or pick up bodies, meaning they work perfectly together at interfaces. Integrated safety engineering, such as laser scanners, ensures optimum safety.
A standout feature of the individual EcoProFleet AGVs is their power supply system. In contrast to battery-powered fleets, the charging time for our AGVs is much shorter because of their capacitor technology. The short periods when the AGVs are stationary while transferring or picking up bodies are long enough to fully charge them.
Intelligent control with DXQ
The EcoProFleet system is managed using Dürr's centralized control system (DXQcontrol). This ensures that all the AGVs are constantly in productive operation. Dürr provides an integrated, intelligent control system across all levels for the use of AGVs in paint shops. That is why the EcoProFleet system offers maximum efficiency and flexibility for industrial painting processes.
The benefits of EcoProFleet
Flexible transport system that connects the body storage area, the work zones and the final inspection department
No permanently installed conveyor systems
More easily adapted to new vehicle models and production processes
Cleaner, more easily accessible production areas
Integrated safety system
Intelligent automatic control system connected to DXQcontrol
The components of the EcoProFleet are robust, long-lasting and easy to maintain. The EcoProFleet can quickly be opened for maintenance and all the components are easily accessible. For navigation, Dürr relies on a system supplied by BlueBotics, the globally recognized autonomous navigation specialist. With more than 1,000 projects installed and more than 3,000 vehicles in operation, ANT® navigation technology has already proved itself in practical applications.
BlueBotics and Dürr sign a contract to develop the paint shop AGV system further