A clean solution
Generating green electricity from exhaust gases
A commitment to climate protection goes hand in hand with using regenerative energies and utilizing their full potential to conserve valuable resources. Stadtwerke Groß-Gerau adopted this approach to sustainability over a decade ago. As part of its efforts, the regional electricity provider enhances the efficiency of its biogas combined heat and power unit with a Dürr ORC system. This system effectively converts waste heat from exhaust gases into clean electricity and useful heat – sustainably and economically.
Stadtwerke Groß-Gerau Versorgungs GmbH (GGV) generates around nine million kilowatt hours (kWh) of green electricity annually at its Wallerstädten biogas plant in southern Hesse. This quantity is sufficient to supply electricity to 9,000 households. Locally sourced crops undergo fermentation in airtight tanks and form a combustible biogas. Biogas gensets on site convert this gas into green electricity.
When biogas burns to generate electricity, it produces excess waste heat that is often released unused into the environment via the chimney. Stadtwerke Groß-Gerau wants to end resource waste and instead harness the valuable energy in the waste heat. The Organic Rankine Cycle (ORC) process is the ideal technology for this. That is why over a decade ago, Dürr integrated a fully automated Cyplan® ORC 70 HT co-generation unit into the existing system concept to optimize regenerative electricity generation even more.
We profit from the ORC system, which significantly boosts the efficiency of our combined heat and power unit. At 7,500 hours of full use, the investment paid itself off after about five years. With an amortization period of ten years, this is equivalent to an internal return of 15.6 percent.
Paul Weber, CEO of Stadtwerke Groß-Gerau Versorgungs GmbH
By effectively utilizing the waste heat with their Cyplan® ORC system, Stadtwerke Groß-Gerau generates an additional 400,000 kWh of electricity annually, enough to meet the needs of another 400 households. The condensation heat produced by the ORC system is separated and utilized as useful heat at a temperature level up to 90°C. It heats both Stadtwerke Groß-Gerau's own building and provides heat to a neighboring producer's initiative for a sustainable method of drying aromatic and medicinal herbs. This increased energy yield not only generates additional income through the green electricity created by the ORC system through the useful heat but reduces operating costs. Best of all, these benefits are achieved while maintaining zero CO2 emissions.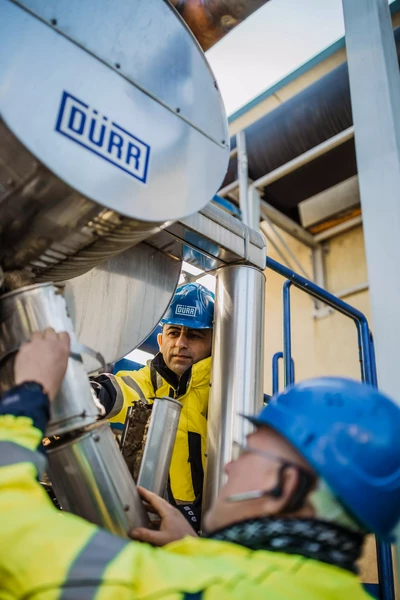 Robust design and reliable support
The ORC system's robust design as well as the comprehensive customer service provided exclusively by Dürr post-installation contribute to its high profitability. This customer service includes a close cooperation with Ingenia, the company responsible for operating the system on behalf of Stadtwerke Groß-Gerau.
ORC is a well-established technology for generating electricity from heat. The process is similar to the conventional steam turbine process. However there is insufficient thermal power available on biogas installations to operate a steam turbine effectively. Therefore, ORC systems use an organic operating medium instead of water that does not require high temperatures to evaporate, initiating the closed loop process. In Cyplan® ORC systems developed by Dürr, the organic medium powers a highly efficient single-stage expansion turbine.
Dürr's team has provided us reliable support for years, with extremely short response times and solution-oriented approaches. Our system availability over the entire service life is well over 95 percent. I'm confident that the system will continue to make a reliable contribution to sustainable and zero-CO2 electricity generation in the coming years.
Stefan Ruckelshaußen, CEO of Ingenia Dienstleistung Beratung Management GmbH
The right solution for every application
The Cyplan® ORC 70 system in Wallerstädten includes a prefabricated, TÜV-certified unit. The standard modules apply to the entire electrical power range spanning 50 kW to 500 kW. Dürr also develops customized ORC-solutions for various applications and interfaces. Leveraging efficient ORC technology, these systems apply to a wide range of installations to convert heat into green electricity and useful heat. This solution is both ecologically and economically beneficial.