Sustainable production of battery electrodes in a closed loop
Sorpt.X LC solvent recovery
Electric vehicles, whether they be cars, bikes, or buses, rely on lithium-ion batteries for power. With the increasing popularity of electromobility, the demand for these batteries has skyrocketed, resulting in the construction of new battery factories worldwide. However, the battery production process heavily influences the ecological impact of electric vehicles. To produce battery electrodes as sustainably as possible, Dürr developed the innovative Sorpt.X LC technology for solvent recovery. Combined with a distillation system, it can reduce CO2 emissions by up to 3,000 tons annually for a medium-sized coating line. Additionally, it can recover more than 95 percent of the costly NMP solvent in electronic grade quality, and return it to the coating process.
Currently, the industry faces not only long lead times for semiconductors but also for lithium-ion cells. And the global demand for batteries will continue to increase: A recent study predicts that the demand will increase almost sevenfold to around 2,200 gigawatt hours (GWh) annually by 2030. The biggest driver is the automotive industry since batteries are one of the key technologies for electromobility. As the main component of an electric car, they also play an important role in sustainability and along the entire value chain. In Europe, new plants' production capacities will increase from 60 GWh to 450 GWh by 2036. Battery production, therefore, with its intensive energy and resource consumption, offers excellent potential for optimizing sustainability-related topics.
Greenhouse gas emissions and environmentally harmful substances must be reduced or avoided at every production stage to produce batteries responsibly. With Sorpt.X LC, we developed an innovative technology for electrode production that enables solvents to be reused in a closed cycle to meet the highest emission standards.
Houver Chabo, Product Manager, Dürr Systems AG, Clean Technology Systems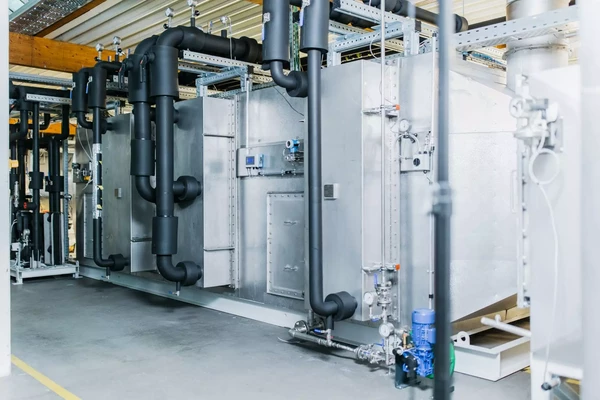 Electrodes are an integral part of every lithium-ion cell. Every battery cell consists of two electrodes, very thin aluminum or copper films, that act as a holding location for the lithium-ions that migrate back and forth during charging and discharging. For this, the films must be coated with a 50 to 150-micrometer thin layer – of graphite on the anode and a slurry made of nickel, manganese, cobalt and lithium in a precisely defined ratio on the cathode. Extreme precision is required here since poor coating quality impairs the battery's function to the point where it could fail. The standard method uses the solvent N-Methyl-2-pyrrolidone (NMP) to dissolve the active materials employed in electrode coating. Classed as a hazardous substance, NMP must be used with the utmost care. It is indispensable in series production due to its excellent solvent properties. Furthermore, at around €3,100 per ton, NMP is an expensive operating material. Dürr developed an innovative, closed-loop solution to meet these challenges. The Sorpt.X LC solvent recovery system removes solvents from the exhaust air of electrode coating systems while recovering the heat and more than 99 percent of the NMP contained therein. Combined with a Dürr distillation system, it can recover over 95 percent of the NMP solvent in electronic grade quality.
If coating lines operate without NMP recovery – as often happens – thermal treatment of the exhaust air is required, releasing lots of environmentally harmful CO2 and increasing solvent supply costs. An average-sized coating and drying system vaporizes between 300 and 1,000 kg of NMP per hour to dry the electrode after the slurry is applied.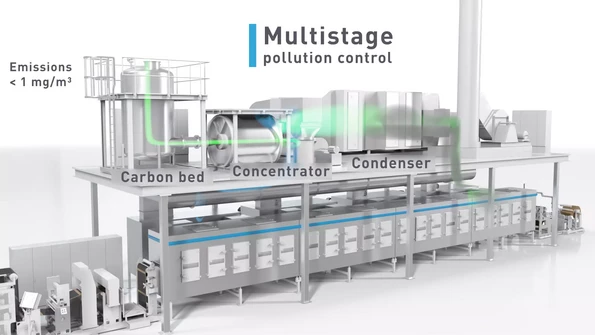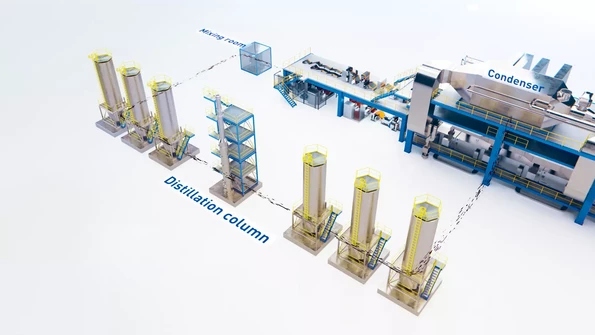 Thanks to its high efficiency, the patented Dürr solution enables the recovery of over 99 percent of NMP, of which more than 95 percent can be reused in the coating process after distillation. The new solvent recovery system also enables us to achieve excellent emission levels, which meet the most stringent local and global requirements.
Houver Chabo, Product Manager, Dürr Systems AG, Clean Technology Systems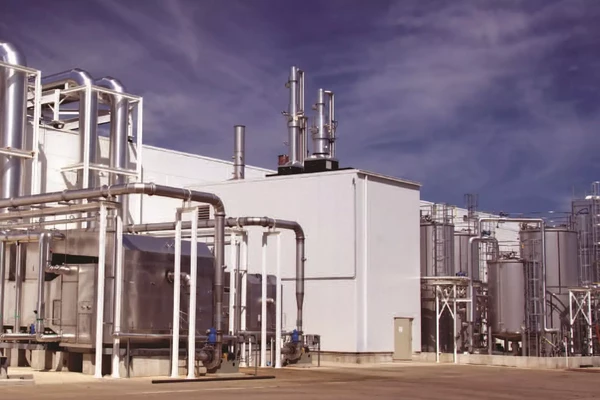 Sorpt.X LC conserves resources such as air and water in many ways. The closed loop operation mode means that a medium-sized cathode coating line with an airflow rate of 60,000 Nm3/h only needs approximately 1,900 Nm3/h of fresh air, which has two positive effects. On the one hand, the downstream Sorpt.X CD absorption system must only purify this small quantity. Comparing the solvent concentration shows how efficiently this is achieved. While the oven's solvent concentration is typically approx. 5-15 g/m3 of air, it is only 1 mg/m3 in the air released into the environment. The second advantage of adding so little fresh air is that it minimizes the amount of moisture getting into the system. Since NMP is hydrophilic (it picks up moisture) – the NMP must be separated from the water through distillation before it can be reused, consequently increasing the quality of the processed NMP. In addition, pairing the Sorpt.X LC with the Sorpt.X CD air pollution control system significantly minimizes energy input and liquid waste.
The heat management of the Sorpt.X LC systems is also perfectly balanced. Their heat displacement built into the loop recovers more than 80 percent of the heat with innovative heating registers, which cools exhaust air and cause the NMP to form condensation. You can use different temperatures to cool the oven's exhaust air flow. This means that Sorpt.X LC systems do not need specially tailored cooling circuits. Instead, they can easily integrate into the heat-laden cooling systems of other energy consumers in production.
Dürr's Sorpt.X LC condensers are frequently used to recover energy from the exhaust air and ensure consistent process conditions with low energy input, even when it comes to anode coating, where water is the typical solvent. Compared to a solution with an air/air heat exchanger, this eliminates fluctuations in the moisture in the process supply air (summer/winter, day/night), substantially influencing the drying process to considerably improve electrode drying quality.
An individual Sorpt.X LC line operating 6,000 hours per year utilizes this innovative solvent recovery technology to reduce CO2 emissions by around 3,000 tons.Considering all operating costs for recovery and distillation, it is a very worthwhile investment both ecologically and economically.
Andreas Keil, Director Business Development, Dürr Systems AG, Clean Technology Systems