The product portfolio of Dürr contains marriage assembly systems integrating bolting and handling systems.
Due to our experience, our know-how and our innovative capacity we are able to realize individual customer requests reliably.
Important supplier for the unit assembly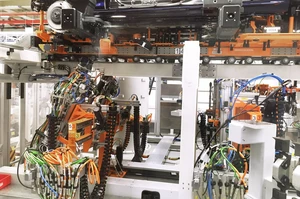 This is all the more important as the marriage line builds the core in the assembly line. In this key area in the vehicle production the drive and chassis components (motor, gear unit, battery, axles, …) are connected with the corresponding car body and are bolted to the correct torque.
Unit assembly – Modular, flexible, efficient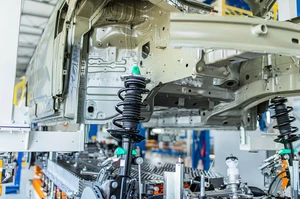 To be able to extend the assembly lines rapidly, to operate them and to relocate the assembly lines form one to another plant if required, this is what means flexibility to the end-of-line specialists at Dürr. This is made possible by allocating the machines required for the marriage to individual moduls completely. As each modul is autarkic in regards to connections as well as to control technology and has a separate floor it is possible to load it as a whole and ship it to any location in the world.
Our knowledge and know-how in assembly lines
Over many years we have gained a huge knowledge in the conception and production of complex assembly lines. This knowledge and the intensive dialogue with our customers enables us to customize the complete systems for assembly lines and to provide products ready to use through one hand // out of one hand.
Dürr stands for latest and innovative assembly systems which fulfill very special customer requirements worldwide.