x-line – Soft- and Hardware for control, automation and communication
The test stand control is based on a PC computer system. For automation and visualization the software x-line is used which has been developed by Dürr.
Alternatively, the control can be carried out using a physical PLC. The data flow is realized via a bus-system, which makes a compact control system possible with only a limited amount of cabling.
The automation of the test sequences guarantees reproducible test results. Freely definable test sequences complete the flexible overall concept.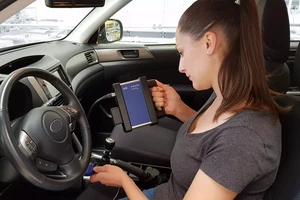 The communication between test stand and vehicle can be effected via a mobile ECU communication system such as, for example, the x-tronic carlink, which can communicate with several control units on the same and / or different bus systems at the same time.