Accredited test laboratory
Thanks to our accredited test laboratory we are able to assess the conformity of certain measurement systems. The test laboratory has implemented the strict requirements for test and calibration laboratories and maintains the official accreditation according to DIN EN ISO/IEC 17025 since 2002.
Accredited test laboratory ensures conformity of vehicle testing systems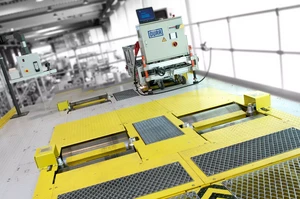 Your benefit:
With a conformity evaluation carried out by our accredited test laboratory you can increase the legal certainty with regards to product liability.
This is what our accredited laboratory tests for you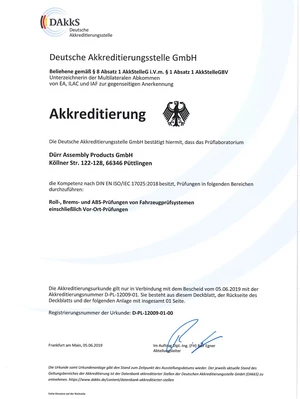 Roller diameter
Speed measurement
Force measurement
For example, the following is required by the Regulation No. 39 of the United Nations Economic Commission for Europe (UN/ECE):
According to Regulation No. 39 (UN/ECE) it must be guaranteed that the speedometer of every newly produced vehicle is tested during production with a testing device which shall be accurate to ± 0.5%.
If, in your production, this measurement device is a roll test stand, we can offer a validation of your test stand with conformity evaluation.
Video x-cal – Testing device
Within the scope of maintenance works we can offer an acceptance test certificate 3.1 acc. DIN EN 10204 for the following measuring quantities:
Inertia (inertia mass) / reduced mass relating to roller circumference/diameter