Floor conveyors for final assembly
Dürr offers a large number of floor conveyor systems for a variety of requirements in final assembly.
ProFleet - Automated Guided Vehicles
Driverless Transport System for General Assembly and Material Handling
ProFleet is the new AGV family specially designed for general assembly and material handling purposes.
Whether with battery or inductive, whatever guidance you prefer, ProFleet comes to the market in different sizes and versions to meet the widest range of budgets and needs.
ProFleet is safe and cooperative because it was designed for assembly shops in the automotive industry, where the density of workers is higher than in other production environments and where man-machine coexistence must therefore guarantee the highest level of safety. ProFleet guarantees the highest safety standards and, with one of the lowest ground clearances on the market, also good ergonomics during assembly operations.
ProFleet is reliable because it was designed by a company that has been designing production lines for the automotive industry for over 50 years. This company is highly familiar with the needs of the most demanding automotive companies, as well as their technological requirements. ProFleet guarantees maximum efficiency and reliability in compliance with the extremely high technical standards required by today's OEMs and start-ups.
ProFleet is flexible because, thanks to its characteristics, it combines the most innovative concepts of smart, modular, scalable and easily modifiable production. Another reason why ProFleet is so flexible is that, even if it is designed specific to a model, minor changes at minimal cost can make it suitable for subsequent integration into the production flow of new models, whatever their size or weight.
In a general assembly shop, ProFleet AGVs are responsible for transporting the body throughout the production facility during all assembly phases of the car. Designed in accordance with the most innovative production concepts, these AGVs are autonomous working islands of various types which, thanks to their configuration, facilitate the completion of assembly activities on the car by operators, allowing them maximum accessibility to every part of the vehicle.
These assembly activities include filling operations at the end of the line. Therefore, the use of ProFleet in so-called "ATEX areas" is further confirmation of its very high level of safety.
Final assembly lines with automated guided vehicles (AGVs) are an increasingly hot topic, especially in the context of Industry 4.0. With the appropriate process expertise at our disposal, we offer conceptual planning specifically tailored to customer requirements.
Skillet platforms with an integrated lifting device permit an optimal working level in terms of accessibility and ergonomics for every work section. Work can be carried out on bodies while the workers are continuously transported together with the work platform at low speed.
This is the prerequisite for a precisely coordinated production flow, which is indispensable in modern just-in-sequence production. Here, too, Dürr supplies individual solutions, e.g. platforms with up to five lifting tables or particularly low designs.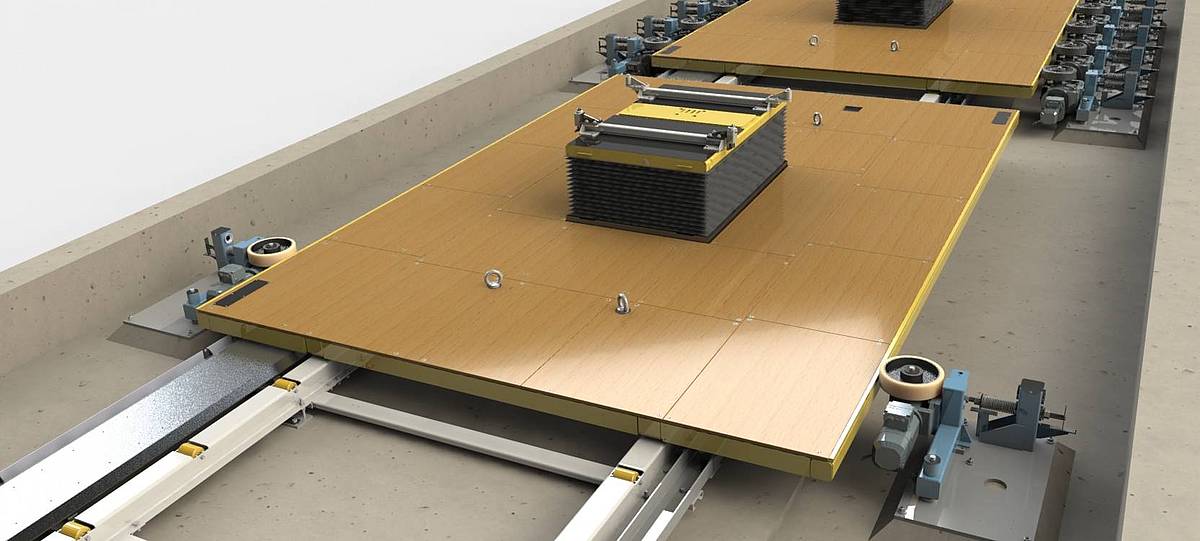 The bodies are transported on roller beds for connections from the paint shop and from the decoupling buffer. The elements are identical to those in the paint shop area. Roller bed systems are suitable for skid transport, pre-assembly and marriage in final assembly.

Dürr offers a wide range of slat conveyors. Their modular design makes them suitable for a wide variety of applications. They are used to transport not only workers but also bodies with wheels. Upon customer request, Dürr supplies one- or two-strand plastic or steel slat versions. Special versions in stainless steel, e.g. for the water test, are also available. Slat conveyors are characterized by robust chain drives and a high resistance to moisture, dirt and high temperatures.
This technology is used as a man-rider conveyor or to transport car bodies. The benefit of plastic link bands is that they are low-maintenance, and on account of being contamination-resistant, ideally suited for use in wet areas.