x-around multi-sensor calibration test stand – Innovative, flexible, reliable
The central component of the End of Line test area for semi-autonomous and autonomous vehicles is the multi-sensor calibration test stand x-around.
x-around, advanced testing of autonomous driving vehicles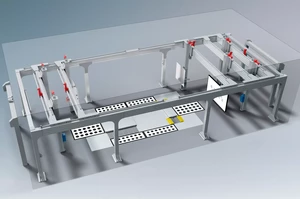 As a pioneer in test stands for driver-assisting systems, Dürr Assembly Products has anticipated this coming trend and developed a new generation of test stands.
The new concept is based on our in-depth expertise in the development and design of test stands for the calibration of modern driver assistance systems and collaboration with our direct customers and the suppliers of driver assistance systems.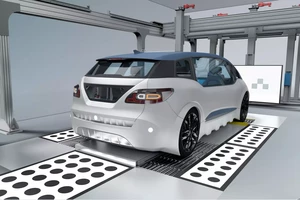 Thanks to innovations such as monitors for the display of static and dynamic calibration patterns and a novel concept for flexible positioning of the calibration instruments all around the vehicle, the new x-around is perfectly suited to calibrate the next generation of assistance systems up to autonomous systems and to execute even more advanced function testing.
Thus, your end of line is fit for integrated and flexible testing of the latest driver assistance systems!