Multi-function test stand x-road curve – New, revolutionary, unique
With the innovative multi-function test stand x-road curve, autonomous vehicles will be tested dynamically.
x-road curve, advanced testing of autonomous driving vehicles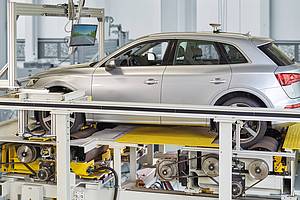 In addition to the standard tests performed in a roller test stand, the x-road curve allows the testing of vehicles at high speeds, including vehicle steering.
The technology of the x-road curve allows the simulation of real driving situations that could not be realised previously on roller test stands. Moreover, this unique technology can be used to retrospectively upgrade all existing x-road test stands.
x-road curve creates previously impossible options for testing semi-autonomous or autonomous vehicles and adds trend-setting impulses.
Vehicle-in-the-loop: Testing safety-related ADAS functions
In the future, the validation and comprehensive testing of safety-related ADAS functions will play a decisive role in the development, production and periodic inspection of vehicles. Dürr and dSPACE have taken up the challenge and jointly developed a solution for vehicle-in-the-loop testing of partially or fully autonomous vehicles.
The x-road curve multifunctional test stand from Dürr, combined with a simulator from dSPACE, allows real driving scenarios to be represented reliably and reproducibly. For the first time, both camera- and radar-based driver assistance systems can be tested on a dynamometer with active steering.
Dürr - dSPACE product video - Find out more about this unique solution!