High-precision headlamp adjustment
The x-light headlamp adjustment system allows the semi- or fully-automated setting of high- and low-beams and fog lamps.
Headlamp adjustment for highest standards
Rapid changes in headlamp designs and geometries for modern vehicles as well as different statutory requirements in a global marketplace have generated tremendous demands on adjustment and testing machinery.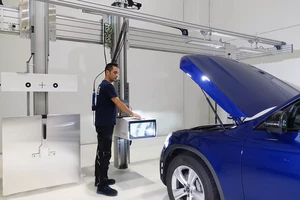 Thanks to our x-light headlamp adjustment system, we can provide high-precision testing and, hence, a reliable semi- or fully-automated adjustment of low- and high-beams and fog lamps.
Combined with the x-wheel wheel geometry test stand, the lamps are set, taking the wheel geometry data into account.
The metrology is camera-based and delivers reproducible results during analysis and adjustment of the headlamps. The proprietary x-line software from Dürr allows the automation and visualisation of the entire test system.
A fully automatic setting of the fog lamps and the low beam headlamps can be executed by means of a collaborative robot (HRC). Due to the special Dürr heavy-load gantry the robot can be installed directly above the light collecting box and be positioned together with it.
See more in our x-light video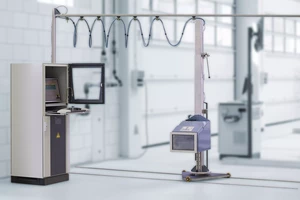 A less costly alternative is our x-light s headlamp adjustment system with the same image processing performance of the x-light but supplied without the same degree of automation. Due to this particularly favourable cost-effectiveness, x-light s is perfectly suited to increase the setting quality of headlamps in small series manufacturing, CKD factories but also in audit and rework areas and to create the required documentation.
The modular design and the high degree of flexibility of the adjustment stand enable an easy modification for future requirements.

Video: Human-Robot-Cooperation for foglamp adjustment