Step by step – we coat staircases too!
A successful use case of our new generation of pneumatic vertical piston pumps
Nowadays, staircases in many apartments and houses no longer serve only as a convenient way of joining two floors. They are also individual design elements and significantly impact spaces' visual appeal. At the same time, they are often exposed daily to extensive wear in high-traffic areas. So, what should an appropriate surface treatment look like to combine long-lasting quality with an appealing aesthetic?
From individual planning and conscientious manufacturing to assembly by experienced and trained specialists, stair master Grohskurth impresses its customers with state-of-the-art manufacturing technology while relying on artisan tradition, sophisticated designs, and in-house manufacturing.
Painting process requirements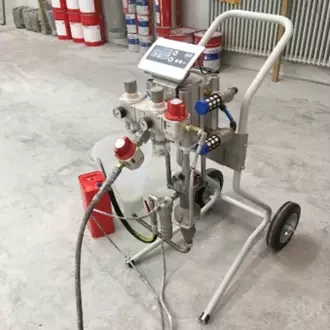 To meet quality requirements, Grohskurth relies on Dürr's state-of-the-art pump technology to paint their staircases. The staircase specialist has been using the EcoPump2 VP since June 2022.
At the company's location in Angelbachtal, a team of experts plans and manufactures the high-end wooden staircases on site. It is important that the team expands its experience. To meet the high-quality standards in the future, Managing Director Tobias Grohskurth and distributor Helmut Trebus, with Dürr's expert team, planned the most important technical requirements before the EcoPump2 VP was commissioned.
Benefits of the EcoPump2 VP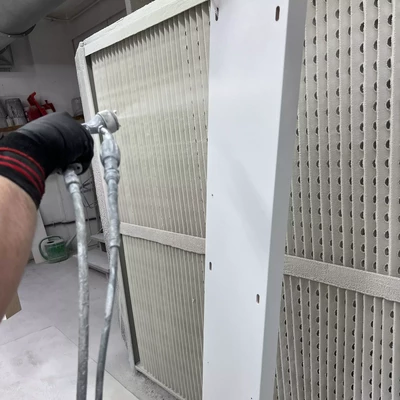 Since it works with many different water-based primers and paints (BC and CC), including highly viscous ones, paint application with the EcoGun AA MAN is perfect for the staircase manufacturer. The manual pneumatic spray gun can handle highly viscous materials while meeting high requirements for surface quality. Conveniently, the EcoPump2 VP comes in five different versions and covers a pressure range from 22 to 306 bar. So it is perfect for applying paints and varnishes, thick matter, and adhesives used for furniture, steel constructions, and many other materials.
The pump needs just one sealing package resistant to all paints, so it is easy for the customer to replace fluid part seals. The seals can be replaced without additional special tools due to the small number of spare parts, making maintenance much easier and faster.
The use of quick-exhaust valves during pump changeover allows the compressed air in the air motor cylinder to escape quickly. The quick pressure reduction significantly reduces changeover times and pulsation, resulting in a much more comfortable and, simultaneously, even paint application. In addition, it dramatically reduces the sound level during a changeover.
Manufacturing and painting process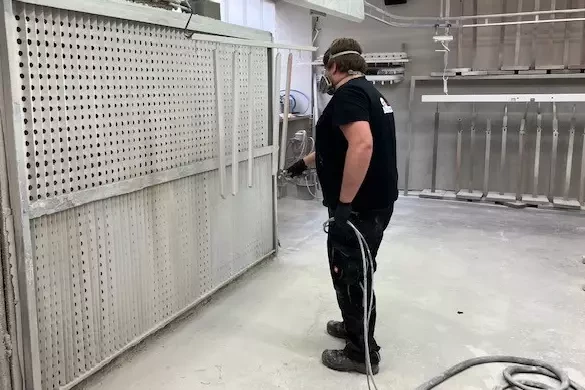 The longest wooden staircase in the world has approximately 3,975 steps in the Mår hydroelectric power plant (Norway) – although it admittedly does not meet the visual standards of the wooden staircases made by Grohskurth. But what does the typical manufacturing and painting process for staircases even look like?
Each stair tread is painted individually. To optimally prepare each for the first coat of paint, the sanded wood of the individual treads, banister and stringer sections is primed first and suspended. Before painting begins, the individual parts must dry and receive another intermediate sanding. The first coat of paint is then applied. Optimal results require up to five coats depending on the type of wood. Once the desired result has been achieved, the components are assembled on-site to give each space its own character.
"With the EcoPump2 VP, we can apply even viscous and thicker paints evenly and cleanly. We are very satisfied with the Dürr unit and won't be buying anything else," shared the owner of Grohskurth.
The EcoPump2 VP is not just for painting staircases; it is also ideal for many other industry sectors, such as machinery construction, metalworking, and woodworking. Dürr presented its latest pump generation for the first time at PaintExpo 2022 in Karlsruhe, Germany.