Part.X PW – Acid Mist Precipitator
Dürr's Part.X PW acid mist wet electrostatic precipitator (WESP) provides high-efficiency removal of acid mist and particulate in sulfuric acid plant gas cleaning applications. It offers a single-stage efficiency of up to 95% (acid mist), and a two-stage efficiency of up to 99.75% (acid mist).
Part.X Acid Mist Precipitator Benefits
The robust, all-alloy construction of the Part.X PW acid mist WESP offers many benefits, including:
Non-flammable
Adept at withstanding high-pressure cleaning without harm; especially appropriate for smelting processes in which WESP scaling is a consideration
Low maintenance; no bolted process connections that may leak; alloy units feature seal-welded joints
Capable of tolerating temperature and pressure excursions
Positive grounding offers more consistent performance and enhanced safety; fogging nozzles not required to provide conduction path
Material can manage ideal spark rates for highest performance
Part.X PW Acid Mist Precipitator Operating Principle
The gas typically enters the bottom of the acid mist WESP. A gas flow distributor in the inlet plenum ensures optimum gas flow distribution across the collecting tubes. Discharge electrodes, mounted on a high-voltage frame, electrically charge the incoming contaminants (solids, acid mists and/or aerosols) for collection on the collecting tubes. From there, the cleaned gas is discharged from the WESP system. A washing system sprays water to periodically clean the WESP interior for optimal collection efficiency.
An option for top inlet/outlet WESPs with an internal downcomer is also available, especially for existing applications in which existing ductwork is reused. Top inlet WESPs are available for two-stage upflow/downflow configurations.
The Part.X PW for acid mist also features hexagonal tubular collecting electrodes and rigid mast discharge electrodes with fixed frame design. The transformer/rectifiers are available in conventional single phase, high-performance three phase, high-frequency SMPS.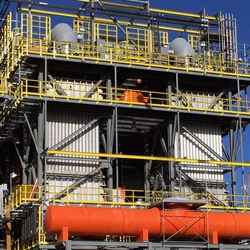 Part.X PW Application Areas
The acid mist precipitator is best suited for acid plant gas cleaning of dirty, off-gas process streams from:
Nickel and copper smelters
Zinc and lead roasters
Sulfuric acid regeneration
High purity acid applications