Act responsible for sustainable paint processes
The future of the automotive industry lies in sustainable, carbon-free production. It's the stark reality in the face of climate change, increased global environmental protection requirements, rising energy and material costs, and increased consumer awareness. The paint shop is one area of automotive production that uses the most energy. Until now, the painting process accounted for nearly half of CO2 emissions because of the complex steps required for car bodies. Technically, it is already possible to operate a paint shop largely CO2-neutral, for example, by electrifying systems and switching from gas to green electricity. But other adjustments can make new and existing paint shops more sustainable.
Updated processes and modern technology hold the key to more sustainable painting. From pretreatment to air supply systems, paint booths with application technology and ovens, to exhaust air purification and workstations, Dürr examines all the process steps to increase overall production efficiency. This includes digital products, like DXQenergy.management, a software that records consumption and production data, clearly presents correlations, and helps define previously hidden optimization potential.
Dürr offers solutions for each process step on the path to a sustainable paint shop that lower material and media consumption, reduce water and wastewater quantities, and avoid emissions. By using new technologies to help car manufacturers build their products in a more environmentally friendly way, Dürr considers itself a 'greenabler' (green enabler).
Dietmar Wieland, R&D Innovation Management
There are many options to leverage for greater sustainability – just look at the pretreatment stage. Around 60 percent of all paint shops globally still operate in a conventional way with pendulum or Power and Free conveyors. Switching to the Ecopaint RoDip® rotational dip process with its compact immersion tank saves water, chemicals and reduces the energy needed to heat the tanks by 5 percent.
→ Learn more about the Ecopaint RoDip® in our Dürr & More article: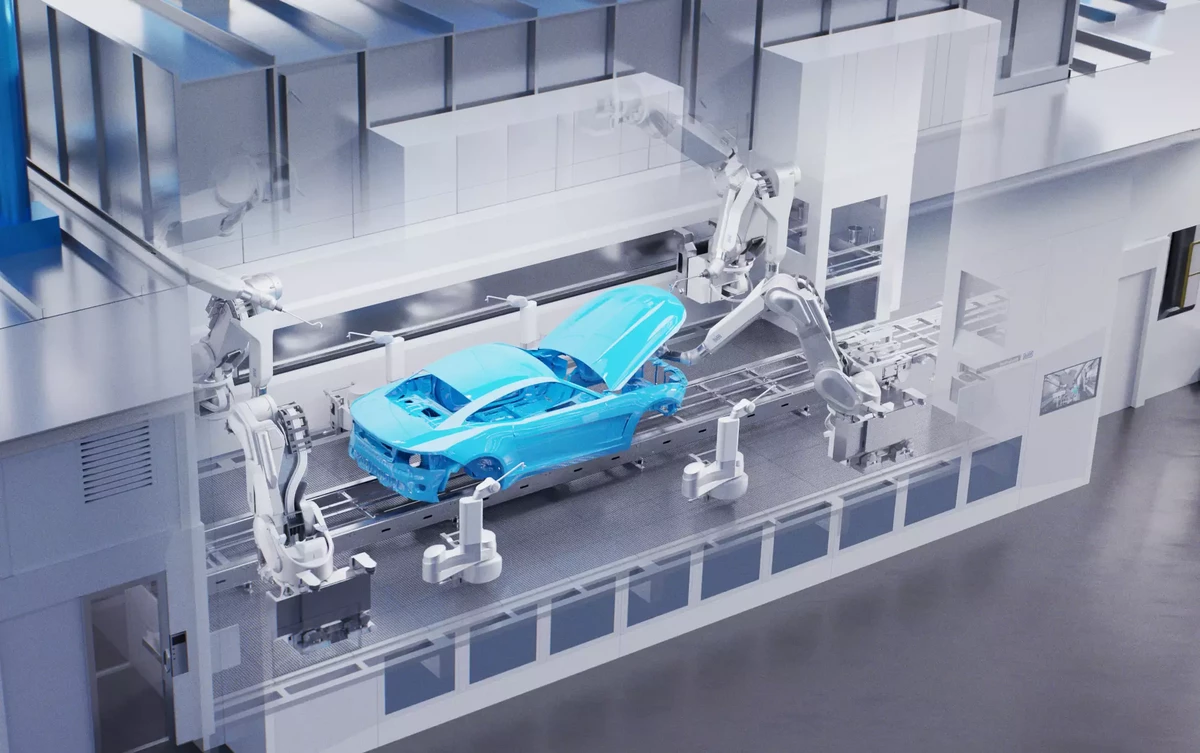 Manufacturers that commit to consuming fewer resources for production reduce their environmental impact and save a lot of valuable – not to mention costly – media and materials. A sustainable paint shop pays off in every respect – both ecologically and economically.
Dietmar Wieland, R&D Innovation Management
Paint booth reduces energy consumption by up to 75 percent
Until now, the most energy-intensive links in the painting chain were paint booths and ovens. To increase cost effectiveness, Dürr is taking a radical new approach with EcoProBooth. This innovation almost eliminates the need for fresh air outside the process, which previously had to be permanently conditioned at great effort and cost. Any overspray produced binds with limestone powder as a filtering agent and is removed from the process air via the separation system – with separation efficiency that meets the HEPA standard, providing a foundation for extremely high recirculation rates. Even more impressive is that dry separation with EcoDryScrubber consumes up to 75 percent less energy than conventional wet scrubbing. In yet another win for sustainability, the cement industry recycles the limestone.
→ Find more information about the EcoProBooth and the EcoDryScrubber in our Dürr & More articles and a press release:
EcoProBooth: Flexibility and energy efficiency go hand in hand
Dry separation – a sustainability comparison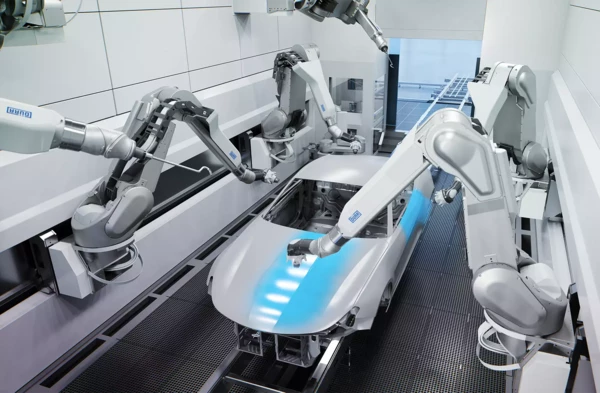 Application technology innovations: minimizing material and solvent consumption
The development team's dedication to constantly improving even tried-and-tested technology can be seen in the paint application products, cleaning equipment, and special paint supply system. The development team minimizes paint and solvent consumption and then collects any residues as efficiently as possible. This strategy reduces volatile organic compound (VOC) emissions by up to 48 percent, including minimizing overspray and using a VOC-free rinsing agent.
Using the EcoBell4 Pro Ux universal atomizer with the EcoProBooth reduces paint loss and solvent consumption to realize additional savings during color changes.
→ Learn more about the EcoBell4 in our Dürr & More article:
Dürr also continues to develop applicators for sealing and gluing technology by optimizing the seam widths so the processes consume less sealing material and produce much less waste. The new EcoSealJet eliminates the need for rework, ventilation and plasticizers.
→ Learn more about the sealing technology in the Dürr & More article: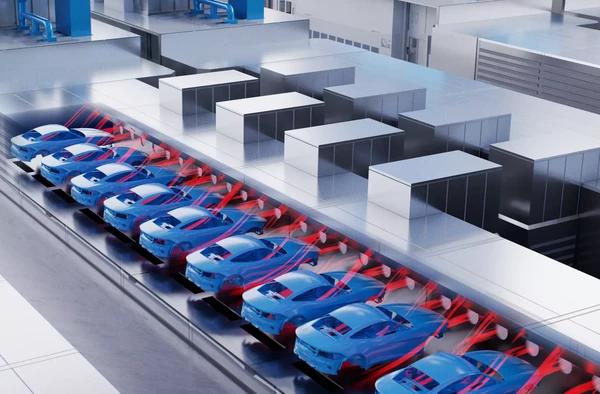 Innovative drying and exhaust air purification
Greater energy efficiency through innovation is the focus for ovens, too. The EcoInCure heats bodies from the inside for a gentler process with higher quality results while reducing electricity consumption by up to 25 percent compared to conventional ovens. In combination with EcoSmart VEC, a smart software program for controlling fresh and exhaust air flows, it can reduce exhaust air volume by up to 50 percent at partial load. When ovens and the exhaust air purification system are electrified and operated with green electricity, they are particularly climate-neutral. Dürr also offers custom biogas and hydrogen-based solutions.
→ Find out more about the ovens as well as the exhaust air purification in our previous Dürr & More articles:
Oven systems for any form of energy
Smart energy management through a tailored software solution
Dürr offers a tailored software solution called DXQenergy.management for the sustainable paint shop. This energy management software, which is ISO 50001 certified, makes it possible to monitor consumption all along the painting process, from aggregated paint shop consumption to individual consumption at sensor level. It also converts the consumption values to CO2 equivalents or average energy costs per vehicle. The monitoring feature is augmented by machine learning algorithms, for example for detecting consumption anomalies in the complex painting process through the use of tools. This enables users to identify savings potential and determine the optimal operating points.
→ Learn more about DXQenergy.management in the Dürr & More article:
Smart energy management thanks to DXQ software
With the new technologies and enhanced products, Dürr is smoothing the way to the sustainable paint shop for the automotive industry.