Sustainability in the paint shop
As a global innovation and technology leader in mechanical and plant engineering, the aim of all our developments is to make a significant contribution to conserving resources and reducing emissions in the use phase of our products through greater efficiency. This naturally includes a transparent and sustainable supply chain.
Sustainability at Dürr is a holistic concept that encompasses the following five areas:
Employees & Qualification
Value Creation & Supply Chain
Engagement & Society
Products & Services
Management & Governance
Further details on sustainability in the Dürr Group and information on our climate strategy can be found here.
Dürr has been working for many years on making the processes within the paint shop more resource-efficient. In the paint shop of the future, sustainability is an integral part. Here, we rely on the optimized interaction of all processes in combination with particularly efficient products. Great successes have been achieved here in recent years in terms of energy consumption and the consumption of paint and water. Many of our products contribute to this. But, we only mark the latest and most sustainable innovations with our Sustainability Label.
With Dürr, the CO2-neutral paint shop is already possible today. Among other things, we make this possible with high energy efficiency in all areas. At the same time, we support the electrification with green electricity of processes that were previously based on fossil fuels, such as in dryer heating. Sustainability also means saving paints, water and other consumables. Where less is consumed, less has to be disposed of.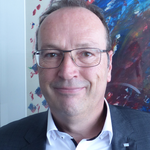 Dirk Gorges
Dürr Systems AG
Carl-Benz-Str. 34
74321 Bietigheim-Bissingen
Germany